Today's post is a bit random....sharing things I've had on my mind or photos I've
wanted to share with you.
Check out these beautiful pics of the morning sky I randomly took one morning on
my drive in to work. Don't worry. I wasn't moving....I was stuck in traffic. I guess there are
some perks to being in traffic, right? :)
my camera with me. I was really glad I did this day. Aren't these photos gorgeous?
Not only do we have a loving and forgiving God, he is talented out the wazoo! These look like they are paintings. I was impressed!
I am sure the people around me thought I was completely nuts for taking photos but
As I got closer in to town, the sky was a little brighter and a darker blue.
This one is my favorite. It looks like it is painted on a canvas.
Changing the subject....I had intended on making a couple of small coffee filter wreaths
to go on the side panels to soften them up but I came across these darling
perfect size, they were on sale and there were two of them. I swept them up and
did my happy dance right there in Target. Sure, I could have made the
wreaths cheaper than the cost of these two wreaths but let's be honest. It
probably would not have happened until after Christmas. Now I can
leave them up all year long if I want.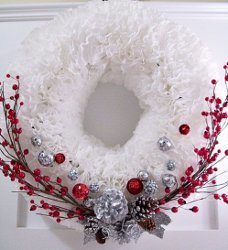 Coffee filter wreath (minus the embellishments)
I know I am doing good when I get my decorative towels ironed before the middle of
December. I had to iron the hub's LSU shirt so he could brag to his coworkers that
LSU beat the Aggies so I quickly ironed these to display.
I knew the towels matched the rugs but not this well.
Some times this towel gets in the way but what's a couple of weeks, right?
The last pieces of the Christmas Vacation village finally came in so it is now done,
with batteries and all! It turned out really cute.
It is a tradition for us to watch the Christmas Vacation movie every year. In fact, I can still
remember Paw Paw Bobby bellowing as he watched the movie. Fun times and good
memories.
Now I am really on top of my game when I get 24 miniature candies tied on before
December 5th. Go Debbie!!! Go Debbie!!!
I am usually rushing to get these on and hung up so we can start the countdown
to Christmas but this year I actually hung it up on the 2nd of December. I usually buy
a variety so there is something for everyone. It is a little time consuming to tie these
candies on so as I am attempting to tie them on someone is always hovering to see
if there will be extra candy. This year it was the hubs.
It really needs to be updated.....it is 22 years old. A favorite boss of mine, his wife made
this for Brooke when she was turning three. Yes, we have been tying and untying
candy on this for 22 years. It is one of the traditions we have kept up. Small things
can have big memories.
Last but not least I want to mention my favorite CD of late.
Taylor Swift's 1989 CD. I am sure you have heard of it, right? Haha!
You would have had to be living under a rock to not hear of it with the intense
marketing blitz they did. It certainly paid off.
There are so many good songs on this CD. I'm not sure which one I'd claim to
be my #1 song. Here are my top favorites:
On our drive to the birthday party last Saturday I played this CD for my
darling granddaughters. The first song I played was "Shake It Off" and they were
so excited until the navigation system kept interrupting the song with her
directions. :) So I replayed the song for them. It was so cute. Ms. A asked
me how did I do that? (She thought it was on the radio.) I told her it
was a CD and they were so excited to hear the songs they liked over and over.
They immediately asked for their own copy so what is a grandmaw to do?
Now they have their own copy.
Do you have special plans or things to do this weekend? The hubs office
is having a Christmas party with a White Elephant Gift Exchange. That should be
a lot of fun!
Other than that, I'd like to get my garland up around the front door. I decided to
add lights to it so I am late getting it up. That shouldn't take too long. I hope I
remember to take photos of the outside.
I've linked up to the Sunday Showcase Party by Stephanie Lynn. Be sure and
stop by and see the great recipes and decorating ideas.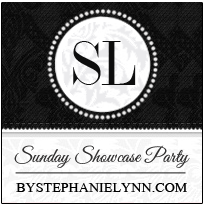 Hope you have a wonderful weekend!
Debbie